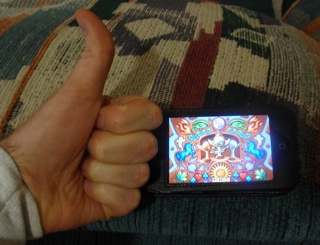 Jeez Louise, it's great to have that game firmly in the finished column. I completed the last two levels and achieved my Extreme Grand Master trophy. I will eventually put up some vids of especially good shots I made in the game.
So how did I tackle those last two levels? First up was Billions & Billions (the one with the flying saucer). I reasoned that since the saucer was the only moving object other than the bucket I might be able to use the same strategy as the previous two levels. This turned out rather well. First, I cleared all the pegs possible by firing straight down. Then I went to the far right.
The problem with firing to the sides arises when the ball enters one of the two holes and comes out the flying saucer. Luckily I found a pattern that allowed me to catch a free ball. I timed it so that the ball entered the hole, fell out of the flying saucer and straight into the bucket without touching any pegs. That ensures that it is repeatable and deterministic.
Then, as I was trying to figure out the next shot I had a good streak of lucky bounces. I decided to try clearing the level and was able to do it. Whew!
The last level, Beyond Reason, is the one with the double helix. For this one I followed the advice on the Pop Cap site. I used Splork and kept restarting until the two green pegs were in the center helix. Hitting both in one shot along with the purple peg gave me three extra balls. I got lucky and bucketed the ball as well so I ended up with 13 balls and just the bottom third or so of the helix remaining. I got a bunch of lucky bounces and ended up clearing the board. The stationary pegs are pretty easy. You definitely need to get good at anticipating the bounces off non-moving pegs to have a chance.
And after all this I'm still seeing new sayings during the load screen (Just now: "Polishing claws").